Deprived of normal childhood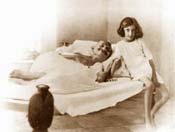 Gandhi was born November 19, 1917, in Allahabad, India, to Jawaharlal and Kamala Nehru. Her life was drastically changed in 1919 when her wealthy and prominent family was visited by Mohandas Gandhi, the pacifist leader of the Indian freedom movement. Recently returned from exile in South Africa, he converted her parents to the cause of Indian independence Constant meetings and the frequent absence of Gandhi's parents deprived her of a normal childhood. Though she was spoiled by her grandfather Motilal, Gandhi later recalled she felt "insecure." She was four years old when her father and grandfather were first jailed for their activities, then the jailings, which also included her mother, became frequent.
Shows independent spirit

Because of the insecurities of her childhood Gandhi hardened herself and resolved not to be hurt, as her mother had been, She grew up as a solemn, precocious child whose games were related to the fight against Britain. For example, at age 11 she organized the Monkey Brigade. Imitating the Monkey army in the epic Indian story Ramayana, While she was in school in Poona in the 1930s She once commented that Gandhi "was always present in my life; he played an enormous role in my development.
SYMBOL FOR WOMEN AND THE THIRD WORLD

India had been ruled by England for over a century prior to its independence in 1947. While the British hadbuilt many roads, schools, and hospitals, they had also acted as a superior colonial power. The Indians greatly resented British control. The organized struggle for freedom began early in this century and grew until after World War II, which ended in 1945, when the British finally realized they could no longer hold India. The ascension of a woman, Indira Gandhi, to the highest position in the world's most populous democracy was especially significant for Indian women, who had traditionally been subservient to men. In addition, she was also an inspiration to people in other Third World nations.